Most Recent:
Shop Kendall And Kourtney's Romy & Michele-Inspired Swimwear
Kendall Jenner and Kourtney Kardashian were serving up major summer inspo while cruising through Cannes, but their best look by far (if you ask us!) was their very '90s swimwear. They posed wearing blue and pink metallic bikinis in one of their summer-y Instagrams, and captioned the pic "Romy and Michele take Cannes." YAS!
We're all about their metallic swim pieces, and saying they look like Romy and Michele is definitely accurate. Of course, they're referring to the scene in Romy  and Michele's High School Reunion where they ditch the "we invented post-its" story and show up to their reunion as themselves, instead. They each wear metallic slip dresses that are oh-so '90s, and they're definitely winning at life in that moment, much like Jenner and Kardashian are in this image. 
If you want to have major throwback vibes this summer, you and your BFF can definitely recreate this Rome and Michele swim moment. ASOS happens to have metallic swimsuits that come in a blue and pink color, so make sure you and your bestie scoop these up, ASAP. 
You'll take your lounging to the next level when you rock metallic pieces in the summer sunshine, so what are you waiting for? Get these pieces in your beach bag and go on a celeb-status vacation, already!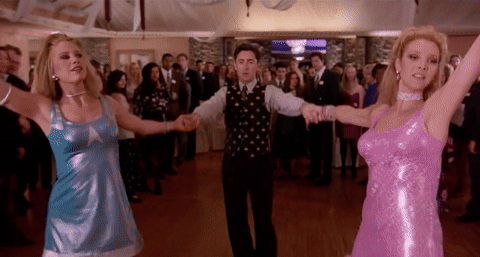 Remeber this? How could you forget!!
'90s babes! They definitely channeled their inner Romy and Michele here, and hey are slaying the summer season in the process. And once you shop these bathing suits, you will be, too!
Monki Metallic Bikini Top, $29; Monki Metallic Bikini Bottom, $16; ASOS 
This light blue color with a subtle shimmer sheen will definitely get you noticed on the beach this season, but honestly, you wouldn't have it any other way, now, would you?
Monki Metallic Bandeau Bikini Top, $29; Monki Bikini Bottom, $16; ASOS 
This suit is perfect for the pink lover in your friend group A.K.A. the Kourtney to your Kendall.
 Monki Metallic High Leg Plunge Cross Back Swimsuit, $48, ASOS
In case one-pieces are more your thing, this very '90s swimsuit is the one for you. The zipper with the circle pull reminds us of skirts we used to wear in the 1990s, so it really is the perfect thing to recreate a Romy and Michele kind of moment.
 Monki Metallic High Leg Plunge Cross Back Swimsuit, $48, ASOS
And of course, it comes in pink, too. Just what you need for all of those matching moments!
When it comes to matching swimwear, it just doesn't get better than this. Take a style cue from these sisters and channel your favorite '90s friendship with your bathing suit choices this season!
Jenner never fails to have impeccable vacay-style, and if you're feeling inspired right about now, you need to check out how to travel just like a Jenner this summer.
Images: Giphy (1); kourtneykardash/Instagram (1); Courtesy ASOS (4)




Please reload