Most Recent:
The Best Items To Have On-Hand For National Rosé Day Celebrations
 The day you've been waiting for all year is right around the corner. No, it's not your birthday—but it might as well be! National Rosé Day is the second Saturday in June, so you'll be sipping pink wine in no time at all.
Before the day drinking commences there are a few key items you'll need to have on-hand to make the celebration even better.
From pool floats to keep your cup afloat to cute beach towels, these items will have you set to drink rosé by the pool, in the park or in your own backyard.
There's no wrong way to sip rosé, but if you want to do this like a pro go on and get to shopping. You'll find everything you need below:
1. Non-Breakable Wine Glass
Set of Four Silicone Wine Glasses, $15.97, Amazon 
Shatter-proof is a must for all of your National Rosé Day festivities, so these silicone cups should work perfectly, no matter what your plans are. Even if you're just drinking from your couch! 
2. Portable Cooler
Super Chill Rainbow Cooler Bag, $34, Ban.do 
This rainbow-shaped bag is the perfect shape to hold a wine bottle, and not only that--it'll keep it cool, too. Because chilled wine is a must, after all. So, tote a bottle of rose with you everywhere you go. 
3. Pool Floats
Set of Seven Inflatable Pool Party Drink Floats, $20.98, Amazon 
Gotta keep your drink floating by your side in the pool, ya know? This comes in a set of seven and has everything from palm trees to donut designs, and we can't get enough of how totally adorable these are!
4. Beach Hat
Vacay Sequin Straw Hat, $29, ASOS 
What rhymes with rosé? Umm, vacay, duh! What better to pair with your beverage of choice than this oversized hat? It's perfect for sunny days spent sipping wine, don't you think?
5. Sunnies 
Blush Pink Heart Sunglasses, $15, Ban.do 
A cute pair of sunnies will complete your summer-ready look, and it just doesn't get cuter than these heart-shaped frames. 
6. Straws
 Pack of Six Crazy Straws, $2, Kitchen Collection
There's nothing more fun than silly straws, so why not use these to aid in your drinking? We certainly don't mind if we do!
7. Popsicle Molds
Betchsicles Ice Pop Molds, $19.74, Amazon
The only thing that could make rosé better is freezing it into popsicle form. These molds are especially cool because your popsicles will look like mini wine bottles. Cheers to that!
8. Bathing Suit
Rosé All Day Swimsuit, $99, Private Party
Umm, motto for life, am I right?
9. Beach Towel
Geo Print Beach Blanket, $38, Forever 21 
If you're hosting your drinking activities outdoors, then you're going to need a stylish, yet functional blanket to complete your set-up. So, be sure to head to Forever 21 to pick this up. Done and done.
Well, I guess you know what we're in the mood for...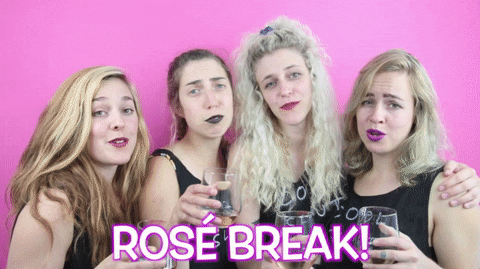 You got it! 
With these products in your possession, there's no way your National Rosé Day won't be absolutely amazing. Now, drink up!
If you can't get enough of these summer-inspired finds, then check out our round-up of warm weather-approved booties while you're in shopping mode!
Images: Courtesy Brands (9); Giphy (1)




Please reload