Most Recent:
How To Make Your Period More Bearable
That time of the month certainly isn't the most looked-forward-to time of the month — we get it. But, that doesn't mean there aren't ways to make your menstrual cycle less of a struggle.
We were recently introduced to THINX period-proof panties, and it's definitely changed the way we view our periods. Sure, it's no fun, but if it's going to happen — you might as well handle it like the total girlboss you are, and these underwear definitely make that possible!
They make it easier for you to "free bleed" a.k.a. go without a pad or a tampon during your menstrual cycle, and that can really make you feel like a total goddess. Because we certainly don't want to feel like we're being forced to wear a diaper when we're grown ass women, you know what we mean?
These undies, along with heating pads, a hot cup of tea and more can make managing your period in 2018 (and every year to come) so much easier. So, ladies — here are our tips for making your period much more pleasant!
1. Period-Proof Undies
 Hi-Wasit Period Panties, $38, THINX
These undies don't make it where you can completely give up pads and tampons, but they do make it possible for you to wear fewer of them. The undies hold up to 2 tampons worth of blood, so half of your day can be spent just wearing these panties — as if you weren't even on your period. Pretty cool, huh? Plus, they're totally cute, and we can say first-hand wearing panties that aren't stained from periods past will definitely improve your mood and make you feel empowered. Because that's right — you can wear cute undergarments even when you are menstruating. Who knew?
2. Hot Tea
Settling in to your bed or couch with a nice cup of hot tea will do wonders for you when you're feeling all cramp-y and bloated. Chamomile tea reportedly has anti-inflammatory properties, so it's great for decreasing bloating. Plus, it can really help keep your skin in check and even relieve stress, according to Mindbodygreen, so this tea really seems to be the trifecta in terms of period management!
3. Heating Pad 
Hot/Cold Pack, $15, MYTAGALONGS
While you're all cuddled up on your couch, you may as well really relieve any aches and pains you're feeling by using a heating pad. Sticking this in the microwave and placing it on your stomach or anywhere that's achey can help you feel so much better. Take our word for it!
4. Snacks
Whether you're chowing down on an entire box of doughnuts, chocolate, ice cream, Cheetos — give in to your cravings guilt-free. It's time you enjoy something delicious and feel like a total queen. 
5. Comfy Clothes 
 What's Up Pant, $70, Free People
Feel free to throw on your comfiest clothes and relax! You deserve it! The best news is — if you shop sweatpants like the ones above, you'll be comfy and chic all at the same time. Win-win!
6. Quality Entertainment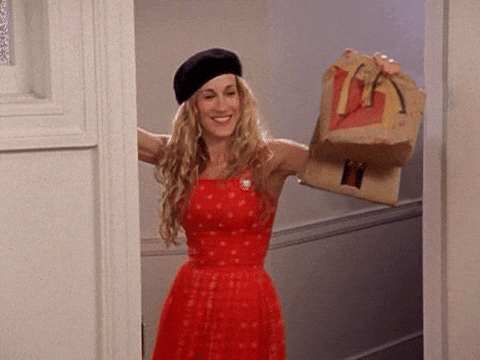 Watch "Sex and the City," curl up with a great book or listen to one of your favorite podcasts (we highly recommend Girlboss Radio!). Any of these options should have you reaching your happy place in no time!
7. Mask It Up
Mask Duo, $40, Glossier 
Another *fun* thing that happens when we're on our periods? Our skin freaks TF out. Great, right? Well, it'll certainly be better when you let Glossier face masks work their magic to get you moisturized, blemish-free and glowing. Shop this link for an extra 20% off!
Any of these steps will have you feeling more like the goddess you are when you're on your period, but if you can manage combining all 7 steps at once — then that's how you'll really conquer your menstruation. So, take a day for yourself and just be. That's really the key to success, honestly. Don't you agree?
Want to see other ways we're conquering 2018? Check out our posts about the makeup we're wearing, boots we're sporting and more on the blog!
--Labels and Lacquer girls 
Images: Courtesy Brands (4); Wix (1); Photo by Bethany Newman on Unsplash (1); Giphy (1)




Please reload