Most Recent:
Our Fave New Find Of The Week: Elle Woods Bikini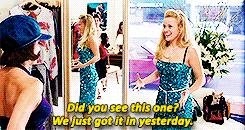 It's time for our fave new find of the week. When you're on summer break from Harvard, you need an Elle Woods bikini to spend your summers in. Legally Blonde may be one of the great classics of films! And Elle Woods is definitely a fashion icon. That's when we saw this Elle Woods Bikini we had to write about it. Now you can cop it too!  
Augusta recently wrote about Kendall and Kourtney wearing bathing suits that gave us Romy and Michele vibes. So if you hadn't gotten enough pink and sparkly fashion moments in your life, we've got you covered! 
Feel free to bend and snap all summer long in this cute pink mini bikini. From the beach to the pool this pink suit will be your go-to bikini the rest of August. We love it and hope you're loving it as much as we are!
P.S. Remember if you just got a perm, you can't get your hair wet! :)
The Elle Woods Kini
 Elle Woods Kini, $175, Dyspnea
How amazing?! Doesn't it look like something Elle would totally wear lounging by the pool! Its covered in pink sequins and has gold sequined hearts too! I mean?! We want this ASAP! Now you can be your inner Elle, too! 
There is our round-up of our favorite new find of the week! Thank you Elle Woods and Dyspnea for making this bathing suit.  
--Labels and Lacquer girls 
Images: Dyspnea (2)




Please reload